Industry News Page 3

Addressing the New Demands of Software-Centric Land Mobile Radio Systems
Today, 74% of all organizations use digital land mobile radio systems. So, we sought to better understand how system managers are evolving their methodologies and resource deployment to maintain and support modern, software-centric systems.
The results from our new Motorola Solutions 2018 LMR System Management Benchmark Survey are out and the findings are striking. LMR system managers still give more support to traditional system management measures than they do to software-centric ones. However, those who focus more on software-centric activities such as network monitoring experience fewer outages.
To learn more about Managed and Support Services from Motorola Solutions, please download the survey.
LMR Management System Management Survey

How are Transportation Professionals Viewing Communications Technology?
The 2019 Motorola Solutions Transportation And Logistics Communications Survey
Learn insights on the use of voice and data communication
Discover future forward trends on added intelligence across logistics operations
Access the latest on ways to prolong your communications investments
Get ahead of your competition with next generation technology ready to alleviate the most common pain-points reported by your peers
Learn about how you can get your logistics operations on trend with Unified Team Communications from Motorola Solutions.
 2019 Transportation And Logistics Communications Survey

Is your facility's Wi-Fi delivering the service you need?
If your LMR network is still helping your teams stay safe, smart and accountable, and your Wi-Fi isn't holding up its end of the bargain, coverage and capacity can be limited. Handovers are patchy, making audio quality poor. You're plagued by temperamental access points. In short, Wi-Fi just wasn't designed for complex commercial operations like yours, and your communications deserve better.
It's why Motorola Solutions built Nitro — the new platform that combines business-critical voice with lightning-fast private broadband data. Nitro puts the control of your communications network back into your hands, so you can configure a secure solution that's perfectly tailored to your operation.
Get secure, enterprise-grade broadband flowing across your business.
Contact us to learn more about Nitro.

Motorola Solutions, Inc. acquire Avtec, Inc.
Motorola Solutions, Inc. (NYSE: MSI) announced it has acquired Avtec, Inc., a leading U.S. provider of advanced dispatch solutions for public safety and commercial customers.
Based in South Carolina, Avtec provides voice over internet protocol (VoIP) dispatch services over land mobile radio (LMR) and broadband networks. Its services enable customers, including airlines, railroads and energy companies, to connect operations center personnel using Avtec dispatch solutions with workers in the field using two-way radios.
"Avtec's industry-leading solutions enable business-critical communications across diverse industries," said John Kedzierski, corporate vice president of Infrastructure and Systems, Motorola Solutions. "Avtec expands our public safety and commercial portfolios, allowing us to offer an end-to-end platform for customers to communicate, coordinate resources and secure their facilities. As part of our portfolio, Avtec will continue to offer dispatch solutions for a number of radio network vendors so its customers and channel partners can maximize their integration options."
"Motorola Solutions has been a committed partner to Avtec for years," said Michael Branning, retiring chief executive officer of Avtec. "Under Motorola Solutions, Avtec will continue to evolve the Scout platform and maintain the culture of service our customers and channel partners have come to expect."
WHAT ARE ESSENTIAL SERVICES FOR MOTOTRBO RADIOS AND SYSTEMS?
Recently, Motorola Solutions announced new enhancements to the MOTOTRBO platform, with new service packages that include access to software updates, premium software features and extended hardware repair services. Your business' security and technology needs are rapidly evolving, and we want to make sure you have a world-class experience each and every time you use your MOTOTRBO products.
There are three pieces of the Essential Services offer:
Software Subscription Agreement
The Software Subscription Agreement ensures that you have the latest and greatest features, system improvements, and – most importantly – security vulnerability patches.
Premium Software Features Package
The simple Premium Software Features Package includes some of Motorola Solutions' most powerful and helpful features for both infrastructure and devices. This includes features like Man-Down, Enhanced Noise Cancellation, and Text-to-Speech, which were previously only sold a la carte. Now every MOTOTRBO radio is capable of being immediately customized to the needs of the user with this package.
Hardware Repair Agreement
The Hardware Repair Agreement extends the standard two-year warranty repair service for another three years, resulting in five years total of hardware repair on both devices and infrastructure.
Buying Motorola Solutions' Essential Services package is the fastest and easiest way for you to have peace of mind that you are fully covered from a hardware and software perspective, and that your software is up-to-date.
WHY IS MOTOTRBO SOFTWARE IMPORTANT?
MOTOTRBO connects people wherever they need instant, clear and reliable communications. It combines the best of two-way radio functionality with the latest digital technology. MOTOTRBO is a computing system that enables instant and clear communication with added intelligence.
As with any computing system, MOTOTRBO is composed of hardware and software. From ultra-light portables to extra-tough mobiles, MOTOTRBO equipment/hardware provide the best of two-way radio functionality with the latest digital technology, but their value over time is static. Three years after purchase, your physical radio is the same radio. Software, on the other hand, keeps adding value over time. With every new software release, you get improved performance, reliability, security and capabilities. Going back to the same example, three years after purchase, because of software updates, your radio is a better radio, which increases the value of your investment with every update.
MOTOTRBO PRODUCTS INCLUDED
Not all MOTOTRBO radios are affected by this new service offering. Below is a list of equipment in the MOTOTRBO portfolio that are included in Essential Services: SL 7000e Series, XPR 7000e Series, XPR 5000e Series, XPR 3000 Series, XPR 2500 Series, and all current MOTOTRBO repeaters.
Contact Us To Learn More About Two-Way Radio & Device Management Services
Motorola Solutions: Celebrating 90 Years Of Innovation
No one could have imagined that the car radio company founded by Paul Galvin in 1928 would one day become the leading provider of mission-critical communications and video surveillance solutions for public safety and commercial customers. And in today's dynamic business environment, 90 years is a milestone few companies reach. The Motorola Solutions team is honored to share this incredible moment with our customers and partners around the world.
For the past 90 years, Motorola Solutions has delivered the essential lines of communication to ensure first responders and businesses around the world work safely and effectively. Their drive for continuous innovation and partnership enables their customers to be ready – whenever and wherever the moment arrives.
Motorola Solutions is a company driven by innovation and we take their responsibility seriously to design and deliver technologies that people refer to as their lifeline. That's how they know we are living up to our company purpose: to help people be their best in the moments that matter.
As Motorola Solutions looks ahead to their next 90 years, the moments will change, and the people will change, but their passion, insatiable curiosity and relentless pursuit of excellence will remain constant. Motorola Solutions will continue to create the future of mission-critical communications, video surveillance and analytics, services and software – they will never stop advancing the lifeline.
Innovation is Motorola Solutions Legacy and Future
For 90 years, Motorola Solutions has grown and evolved. From their first car radio to the only end-to-end command center software suite, they are passionate about continuously innovating to keep their customers at the forefront of mission-critical communications.
It's why Motorola Solutions spends thousands of hours working alongside their customers to understand how they use technology - and how the technologies they use work better together. And it's why Motorola Solutions push boundaries - advancing technology and transforming how their customers communicate.
Today, Motorola Solutions commitment to innovation comes to life in their solutions: mission-critical services, software, video and analytics backed by secure, time-tested land mobile radio communications – technology that makes sure the right information makes it to the right person at precisely the right moment.
Motorola Solutions is transforming the technology of today with tomorrow in mind, ensuring their customers are always ready, because every moment matters.
Motorola Solutions history and heritage of innovation is evidence of our commitment to challenging the status quo.
SPILLMAN ALLY
Comprehensive Security Management in the Cloud
Spillman Ally is an all-in-one security officer software solution that gives users access to incident and dispatch management with the added functionality and convenience of a cloud solution. Security personnel can access integrated records, dispatch, mapping, and analytical tools from any device with an internet connection and web browser, such as a desktop computer, laptop, tablet, or smartphone. Ally brings the same reliable, cutting-edge technology and support that Spillman has applied to law enforcement software for more than 30 years, but with the pricing and flexibility that security organizations need. Since its launch, Spillman Ally has helped both in-house and contract security agencies across the nation upgrade to a simple, affordable, and secure incident reporting software solution.
What Can Ally Do?
Ally provides both in-house and contract security organizations with the cutting-edge tools required to manage their critical data such as incident reporting, name and vehicle records, premises information, and analytics capabilities, all at an affordable price that is flexible enough to fit the organization's specific needs. As a cloud-based security software platform, Ally also offers complete data mobility, and each of its fully integrated features are accessible from any device with an internet connection.
Read more about Ally's features and the advantages they provide to security agencies by clicking on the link below.

As of January 1, 2018, Motorola Solutions has combined the best of Vertex Standard's precision engineered portfolio with their industry-leading two-way radio lineup, and those products will carry the Motorola Solutions brand. This alignment maximizes the strengths of both names to best serve the marketplace.
What does this mean for current Vertex Standard users? You can expect to see your favorite models as part of a focused portfolio – finely tuned to include the best of the best, rebranded and supported by Motorola Solutions' expanded network.
The following models are now under the Motorola Solutions name: 
ANALOG PRODUCTS
Portables
VX-261
VX-264
VX-451
VX-454
VX-459
Mobiles
DIGITAL PRODUCTS
Portables
The following Vertex Standard Legacy Products are discontinued and no longer available:
ANALOG PRODUCTS
Portable Radios
VX-230
VX-350
VX-420A
VX-820 Series
VX-920 Series
Mobile Radios
VX-4500/4600
VX-5500
VX-6000
Repeaters
VXR-1000
VXR-7000
VXR-9000
BASE STATION
DIGITAL PRODUCTS
Portable Radios
Mobile Radios
Repeaters
IP
P25 PRODUCTS
P25 Portables
P25 Mobiles
Please contact us with any questions you may have

NEW EVX AND VX SERIES RADIOS BROCHURE
When it comes to choosing a two-way radio for your team, you shouldn't have to compromise. High-powered devices loaded with expensive features are great, but they can carry a hefty price. At the same time, some teams require more than just a basic, affordable two-way radio.
EVX and VX Series radios deliver the essential capabilities your team needs and the value you demand. They also provide things you might not expect, such as dedicated, licensed communication and a wider coverage area. So whether your people are working in front of customers, out in the field, or on the factory floor, they can communicate more effectively and work more efficiently. All without breaking your budget.
Start by minimizing distracting crosstalk in conversations by using licensed radios on a dedicated frequency. Expand your coverage across a campus or up multiple floors of a building. Experience proven audio quality so your employees are heard loud and clear. Rely on safety features that help keep workers protected in case of emergencies. And enjoy battery life that lasts an entire shift, reducing downtime and increasing productivity.
Whether you choose a digital radio from the EVX Series or an analog VX Series device, there's one that's perfect for your team. EVX and VX Series radios. More than just essential, they're just right.
Download the New EVX and VX Series Radio Brochure

THE LATEST COMMUNICATIONS SOLUTIONS FOR EDUCATION
Today's schools are seeking ways to overcome many serious challenges.
Facing Greater Challenges with Fewer Dollars
K-12 schools are under enormous pressure to strengthen safety and improve efficiency with tighter budgets. Educators say creating a safe, secure environment for students and staff is their top priority. School safety extends beyond classrooms and corridors. It includes preparing institutions for disasters and weather events, coordinating a rapid response throughout a school or district, and keeping students safe off property – as they travel on buses, to field trips, tournaments and more.
Parents want to be confident their children are learning in a safe, secure place. School personnel need to know they can effectively communicate among themselves and instantly interoperate with first responders. And administrators must be equipped to coordinate a rapid response to any situation with up-to-date technology.
The Use of Two-Way Radios In Schools Has Tripled in the Last 2 Years
And for good reason. Two-way radios are purpose-built for highly reliable, instant communication between groups.
Increase Safety and Security of Students and Staff
Instantly connect staff and public safety personnel in an emergency. Keep track of children, colleagues, and assets from any location. Monitor buses and routes in real time.
Digital Radios Combine the Reliability of Analog with the Best Aspects of Smartphones
Now, principals, teachers, IT staff, bus drivers and operations personnel have access to features like text messaging, Bluetooth® connectivity, GPS awareness, and Wi-Fi® connectivity.
Contact us to learn more about the latest solutions for education

IMPRES™ 2 Batteries
First responders, public works employees, and other professionals know that shifts aren't getting any shorter. Thankfully, you can keep your people connected even longer. IMPRES 2 batteries deliver higher capacity without an increase in size. All IMPRES 2 batteries share the same IP68 rating as APX radios, which means they can be fully submersed in two meters of water for up to four hours. Designed with a rugged housing, they're as tough as the radios they power. IMPRES 2 batteries, when combined with an IMPRES 2 charger, deliver 60% more charging cycles than traditional Lithium Ion batteries.
Download the IMPRES 2 Datasheet

MOTOTRBO™ IP Site Connect
The IP Site Connect digital solution uses the Internet to extend the coverage of your MOTOTRBO communication system no matter where you're located. You can communicate easily among geographically dispersed locations across the city, state or country.
You can create wide area coverage and automatically roam from one coverage area to another with no manual intervention. Or you can enhance coverage at a single site like a high-rise building that contains physical barriers. IP Site Connect enables you to extend the voice and data communication capability of your workforce beyond the levels two-way radio has achieved before. This means dramatically improved customer service and increased productivity.
Contact us for more information
FMCSA & PHMSA COMMERCIAL DRIVER CELL PHONE BAN
Mobile Phone Restriction Rule For Commercial Motor Vehicle Drivers
The FMCSA and the Pipeline and Hazardous Materials Safety Administration (PHMSA) have published rules specifically prohibiting interstate truck and bus drivers and drivers who transport placardable quantities of hazardous materials from texting or using hand-held mobile phones while operating their vehicles. The joint rules are the latest actions by the U.S. Department of Transportation to end distracted driving. Violations can result in fines and/or driver disqualifications and will impact a motor carrier's and/or driver's Safety Measurement System (SMS) results.
Overview And Background
The FMCSA rule restricts the use of all hand-held mobile devices by drivers of commercial motor vehicles (CMVs). This rulemaking restricts a CMV driver from holding a mobile device to make a call, or dialing by pressing more than a single button. CMV drivers who use a mobile phone while driving can only use a hands-free phone located in close proximity.
Fines, Penalties, And Disqualification
Using a hand-held mobile phone while driving a CMV can result in driver disqualification. Penalties can be up to $2,750 for drivers and up to $11,000 for employers who allow or require drivers to use a hand-held communications device while driving. Multiple violations of the prohibition of using a hand-held mobile phone while driving a CMV can result in a driver disqualification by FMCSA. Multiple violations of State laws prohibiting use of a mobile phone while driving a CMV is a serious traffic violation that could result in a disqualification by a State of drivers required to have a Commercial Drivers License.
We Can Help You Avoid Fines And Penalties And Comply
Motorola's MOTOTRBO digital two-way radios are the preferred choice for businesses and organizations that need to safely and efficiently connect with their mobile workforce. MOTOTRBO complies with US DOT, FMCSA and PHMSA regulations.  
10 Tips In Improve Your Two-way Radio's Battery Life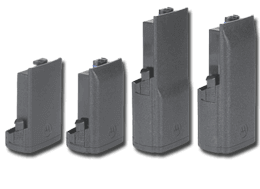 Battery life is important to every two-way radio user. Following these simple care instructions can help protect your rechargeable batteries and enhance their performance and useful life. Motorola brand rechargeable batteries are designed and precisely manufactured by Motorola to ensure optimum portable radio performance.
Contact us for mor information